Masteria

CWK CWK PQ

Master Guardian

Wolf Spider
Name
Masteria
Other Names
-
Amount of maps
A lot
Locations in Masteria
New Leaf City, the Pendergast Mansion and Crimsonwood Keep.
Based on
Unknown
First Introduced
North-AmericaMS, date unknown.
Popularity
Usefulness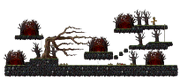 Masteria is the first exclusive content of Global Maplestory.
It's pretty much the Global version of World Tour, but since Global doesn't have a specific country to aim for, it's called Masteria instead of America. But Masteria might be an annagram for another word.


You should also see
Edit
Pages:


Crimsonwood Keep


Mobs:


Mobs of Masteria