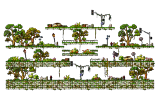 Despite there being another map called "Centre of Ulu City", this map is more of a centre.
From this point, you can enter three portals. One leads to the ruins of Krexel, the final boss of Ulu City, another leads towards a map with minidungeons, and the other is your path back to Suburban area 2.
There are no requirements to enter the Krexel map, so go ahead if you want to suicide.
Singapore : Entrance to Ulu City
Singapore : Ulu Estate I
Singapore : Ulu Estate II
Singapore : Ulu Estate III
Singapore : Along the Ulu City
Singapore : Centre of Ulu City
Singapore : The Destroyed Park I
Singapore : The Destroyed Park II

Roaming Monsters
Edit
| Slygie | Duku |
| --- | --- |
| Level: 95 | Level: 115 |
| | |
| HP: 49,000 | HP: 90,000 |
| EXP: 2,500 | EXP: 5,000 |